Local SEO Should Play a major part in every company's marketing mix. Want Proof?
"70% of online searchers will use local search to find offline businesses." – Kelsey Group
"97% of Internet users in the U.S. gather purchasing information online, and of those consumers 51% explicitly characterize their behavior as "Shop Online, Purchase Offline" NDP Group
"54% of search users have substituted Search Engines for the phone book" – comScore Networks
"For every one dollar U.S. consumers spend online, another five or six are going to offline purchases that are influenced by online research." – MIT Technology Review
While the numbers vary from study to study, the trend is clear. Consumers are looking for local products and services online. And if they can't find your business, they can't do business with you.
Local SEO, particularly Google Places Optimization, is the way to get your business in front of these potential clients.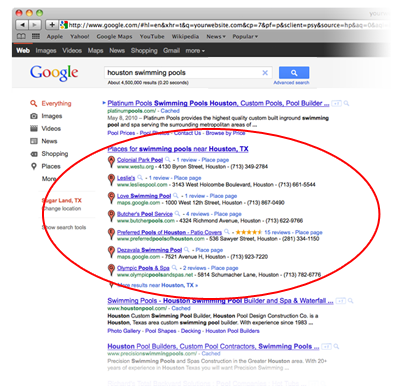 By being higher in the search results, the likelihood of a consumer choosing your business increases exponentially. In addition to simply being able to find your business, there's also a level of credibility and trust associated with companies at the top the search results. By nature, search engines are designed to place the "best" result at the top. When a searcher finds your business at the top, it creates instant credibility in the eyes of the consumer.
At Condor, we've been making businesses more profitable through Google Places optimization since Google Places was launched in 2009. We've optimized hundreds of business locations across multiple geographies and industries, so our strategies and tactics are based on reality, not blog posts by supposed "thought leaders". Unlike most companies in this space, our process is completely manual and consists of citation building, organic linking, encouragement of customer reviews, and a proprietary Google Places ranking platform.