Mobile Search for Local Businesses
As of March 2010, the US local mobile audience reached 17.3 million users according to a survey conducted by comScore on behalf of the Yellow Pages Association.  This means there was a 14% year-over-year increase between 2009 and 2010 alone.  eMarketer estimates that there were 285.6 million mobile subscribers in December 2009 with only 6% were using their mobile phones to access local directories.  That percentage was a lot higher for mobile users who specifically use their phones to access the internet.  A full quarter of these mobile users searched locally in directories and search engines at least once every month.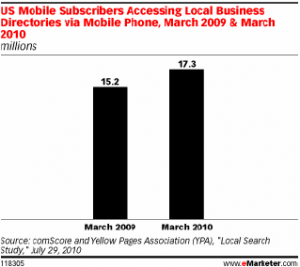 Between March 2009 and March 2010, the number of mobile subscribers accessing local businesses directories increased by 1.9 million.  The growth between January 2010 and January 2011 was an additional 6% (Source: this year's comScore survey).  That means that mobile local content users now represent 77 million people, or 33% (over a third) of the US mobile population.  43% of mobile users access local search 1-3 times a month, 37% access local search once a week, and 20% do so every day.  88% of mobile search users now access the internet through a device equipped with GPS.  Nearly a fourth of all mobile users now have a smartphone.  We are seeing tremendous growth in all access areas including users who access classifieds, maps, business directories, news, online retail, and much more through their mobile devices.
The most popular devices to access local information on are as follows:  The Apple iPhone 4 16GB, the Motorola Droid, the Apple iPhone 3G S2GB, the BlackBerry Curve 8530, and the Apple iPhone 3G S 16GB.  Even though tablets didn't make the list, marketers should take note that they are becoming ever more popular for locally based services.
Neg Norton, president of the YPA said, "Mobile offers significant opportunity, both for consumers who need convenient and reliable sources of local information on-the-go, and also for local search providers that are making this content available in new and innovative ways.  Yellow Pages and other local sites that have a legacy for providing trusted local business information via print directories and Web search tools are best poised to take advantage of this phenomenally versatile and interactive media.  Mobile allows them to extend Internet Yellow Pages to consumers wherever they are."
According to this year's survey, the top reasons for search are to find contact information, to find the address/directions to a local business (that motive is increasing), to research (increasing as well), to find a business offering a particular product or service, and lastly to make a purchase.  It's also been shown that the number of users who are accessing and using coupons delivered to their mobile devices is increasing, along with the satisfaction of those customers.
The mobile consumer base in the US continues to grow rapidly as the technology evolves and moves more into the mainstream.  We are also now seeing the development of location-sharing and other cross channel services which are altering the landscape of commerce.  While cross channel services are still in the early adopter stages, we will be seeing them take center stage in the next couple years.  This is the time for retailers to get in on the ground floor of the new mobile era and take full advantage of the changes in how consumers are interacting with their local economy.